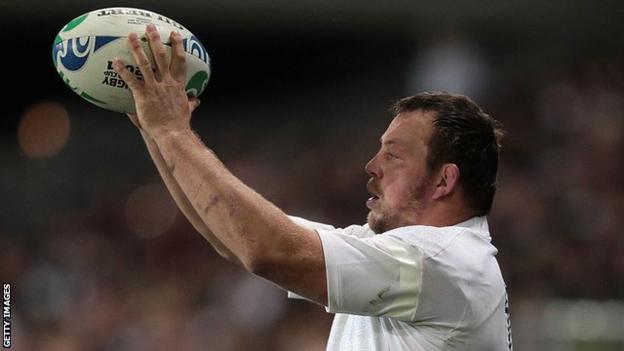 Lawyers for more than 185 players are suing rugby union's governing bodies for negligence, claiming that playing the sport caused brain damage.
World Rugby, the Rugby Football Union (RFU) and the Welsh Rugby Union (WRU) are accused of failing to "protect players from permanent injury".
Among those named as claimants are World Cup winner Steve Thompson and former Wales player Alix Popham.
"It's about protecting future generations," Thompson told BBC Sport.
World Rugby, the RFU and WRU have not yet been issued with a legal claim, but in a joint statement said they were "driven by a passion to safeguard our players".
Thompson and Popham have both been diagnosed with early onset dementia.
Ex-Wales captain Ryan Jones is also a claimant after recently revealing he has the same diagnosis.
Thompson and seven other former players started the process of a claim in December 2020. Law firm Rylands Legal then issued proceedings on Monday.
In April, former England hooker Thompson, 44, told the Mail he was "put on suicide watch" as he struggled with early onset dementia.
"Obviously it's been a long 18 months to get to this stage and the sad news is just how many players are part of it now," he told BBC Sport's Laura Scott.
"We started with three [players], then there were seven, now there are well over 100, nearly 200, and there are more to be tested.
He added: "Over the last 18 months a lot has come out and shown that it's not just about trying to get money, we are trying to save the game.
"We just want people to play rugby and be safe, or as safe as they can be, and go in there with an open mind knowing what's going on."
Lawyer Richard Boardman claimed there has been "systematic failure" by the governing bodies.
He added: "Traumatic brain injuries in contact sports is by far the number one issue plaguing sport going forward."
Rylands Legal said: "This claim isn't just about financial compensation; it is also about making the game safer and ensuring current and former players get tested, so that if they are suffering a brain injury, they can get the clinical help they need.
"The players we represent love the game. We aim to challenge the current perceptions of the governing bodies, to reach a point where they accept the connection between repetitive blows to the head and permanent neurological injury and to take steps to protect players and support those who are injured."
In addition to the rugby union legal action, the lawyers are also representing 75 rugby league players "as part of a separate but similar potential claim against the Rugby Football League", the code's English governing body.
"We care deeply about all our players, including former players, and never stand still when it comes to welfare," World Rugby, RFU and WRU said.
"Our strategies to prevent, identify and manage head injuries are driven by a passion to safeguard our players and are founded on the latest science, evidence and independent expert guidance."
What allegations are raised by the players?
The claimants accuse the named governing bodies of failing to:
Take any proper steps as the game turned professional to respond to a disregard for player safety and brain health at club and international level.

Take adequate steps to inform, educate or warn the claimants about the risks of permanent brain damage.

Reduce the amount of contact allowed in training.

Reduce the number of matches per season.

Keep or extend the mandatory 21-day stand down period after a concussion, instead of reducing it.

Seek or follow expert medical or other advice available to them with regard to the risk of permanent brain injury.

Act on the knowledge that concussions often have delayed presentation, with the lawyers arguing that the five- or 10-minute assessments introduced during a match were wholly inadequate.

Devise and implement rules to limit the number of substitutions of non-injured players and thereby reduce the risk to players of heavy collisions.

Devise and implement a brain injury specific player passport system.

Ensure that the claimants were subjected to regular monitoring, such as by way of MRI, and medical examination to check for evidence of changes to the structure of the brain.

Institute or commission adequate research into the effects of multiple concussive and sub-concussive impacts on the brain and the prevention of permanent brain injury.
If you are affected by any issues relating to this story then please go to BBC Action line for information and support.