Queensland Health has issued a recall notice for vegan chocolates after they were found to contain milk.
More details would be provided but it looks as if the Foods Standards website is offline for maintenance.
Dramatic scenes from a fire in Adelaide where seven people have been reportedly injured following explosions at a motel just outside the CBD.
More as it happens.
Australia working in 'lockstep' with US on Solomon Islands, says Barnaby Joyce
Deputy prime minister Barnaby Joyce has defended the government's handling of the relationship with Solomon Islands on ABC Insiders this morning saying the US and Australia were working in "lockstep".
This is not something that we were blinded by.
Speaking about the energy transition in regional areas like Gladstone, Joyce sought to pour cold water on efforts to quickly combat the catastrophic risk of climate change by moving to a zero carbon economy.
In a heated exchange, Joyce said the government was supporting hydrogen developments but would not be giving up on fossil fuel industry.
Here is the vital difference – is that we are standing by the jobs they got and investing billions towards hydrogen but we're not going to be saying to people the word 'transition' because that equals to unemployment. Transition to what? There is no other industry here.
National Covid death toll since start of pandemic approaching 7,000
The national death toll since the start of the pandemic is approaching 7,000 after 44 deaths have been reported since Saturday, AAP reports.
NSW and Victoria have recorded more than 18,000 new Covid-19 cases along with 10 deaths on Sunday morning.
Some 6,980 Australian lives have been lost to coronavirus, with data still to be reported in most states and territories on Sunday.
Coalition committed to 'lower tax guarantee' if reelected
The federal Coalition say they are committed to a "lower tax guarantee" if reelected to government.
This decision will lock-in tax cuts of $100bn over the next four years in a continuation of existing government policy.
These tax cuts have been problematic as they overwhelmingly benefit men and those in the highest income brackets while creating future structural problems in the budget.
During an appearance on ABC's Insiders this morning Labor shadow treasurer Jim Chalmers responded by saying "you can't believe that Scott Morrison says about the economy and the tax".
This is the second highest taxing government of the last 30 years.
When pushed for Labor's commitments on tax reform, Chalmers said Labor was "not proposing any tax reforms beyond the proposals that we will shortly make about multinational tax reform".
Later in the program he confirmed Labor would be looking to "trim spending".
We made it clear we need to trim spending in areas like the commonwealth spending on consultants, contractors and labour hire. We think there are substantial savings to be made there. We would be inheriting, if we're successful on 21 May, $1tn in debt and not enough to show for it.
Chalmers will be giving a press conference in Brisbane at 10am.
Labor shadow treasure Jim Chalmers is appearing on ABC's Insiders just now and is lashing the government over its handling of the relationship with Solomon Islands:
Clearly, this is the consequence of a government which has cut foreign aid spending, they have mocked our Pacific friends when it comes to climate change, and they have dropped the ball when it comes to our national security and that's what we're seeing now.

Our country is less safe as a consequence of the mistakes that they have made on foreign policy. That is the net effect and the consequence of all of this chest-beating.

Now, this is a prime minister that went to the wrong island, you know, went to Hawaii during the bushfires when his focus should have been on the Solomon Islands.
A few shots from last night when prime minister Scott Morrison was in Sydney to attend Orthodox Easter services and naturally he had a photographer in tow.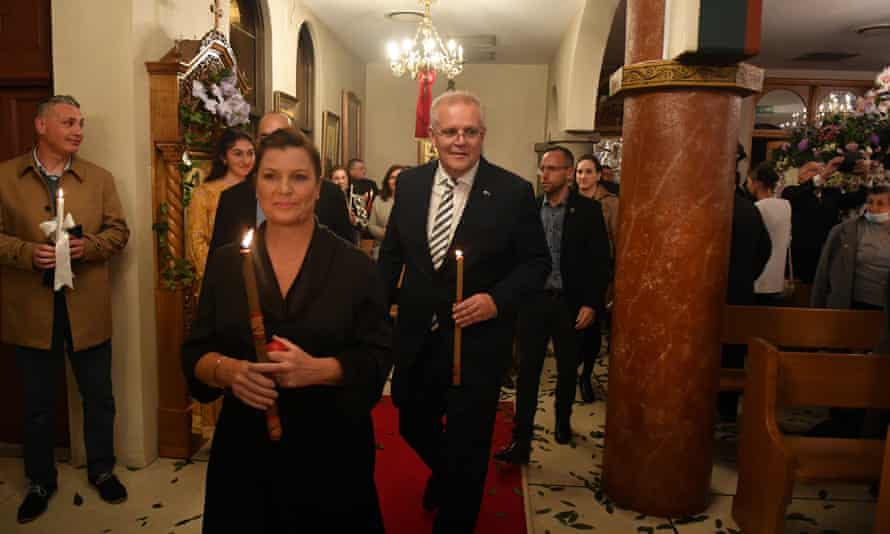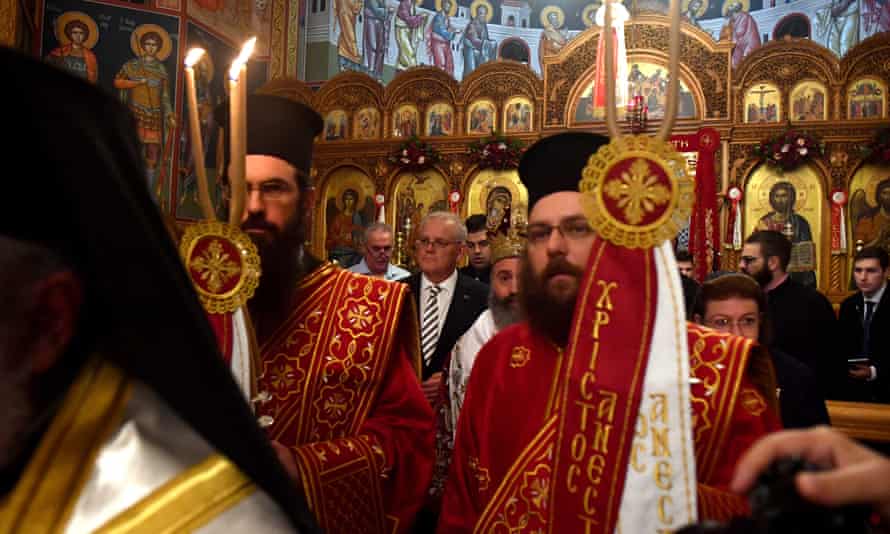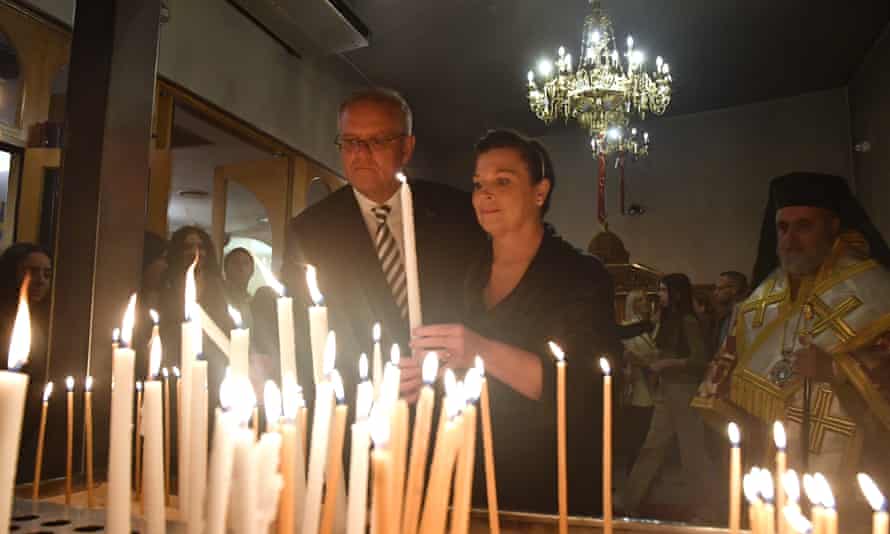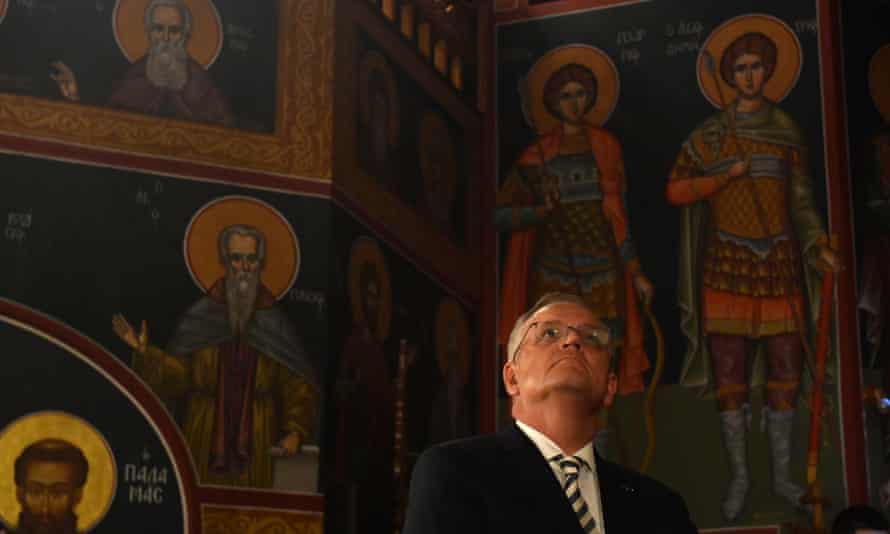 Victoria records two Covid deaths
Two people with Covid-19 have died in Victoria overnight. Health authorities in the state have reported 7,104 new cases, with 438 people hospitalised, 33 people in ICU and eight on ventilation.
NSW records eight Covid deaths
New South Wales has recorded eight new deaths from Covid-19 overnight. The state has reported 11,107 new cases in the last 24 hours with 1,588 hospitalisations and 64 people in ICU.
Good morning and happy Sunday! We pick up the liveblog as the country is about to enter week three of the 2022 federal election campaign.
As we approach the midpoint, the major parties are turning their attention to the Northern Territory today.
Labor is announcing that it will hire 500 extra Indigenous health staff while prime minister Scott Morrison is also in Darwin and was photographed attending Greek Easter services last night.
Royce Kurmelovs will be on the blog and taking you through events of the day. If there is something happening in Australia you think should be on the blog, his DMs are open and you can reach him at @RoyceRk2.
In the meantime, let's dive in.